When it comes to SEO tools, there are unlimited choices available in the market. Each one of them claims to be the best. If you are an SEO expert, making an investment in an all-in-one SEO tool can be a good choice as you will get access to all features within the same tool. The all-in-one SEO tool can help you in keyword research, competitor analysis, rank tracking, and competitor analysis.
When it comes to all-in-one SEO tools, the two best tools available in the market include Semrush and Serpstat. Semrush and Serpstat are great SEO tools that help digital marketers in increasing the visibility and traffic of their website.
Both these tools offer excellent value for money. Semrush is used by millions of people all over the world, while Serpstat offers great features at the most affordable price. So, let's find out which one of these tools you should choose.
SEMrush Vs. Serpstat: Honest comparison
We will summarize the main features of both these tools so that you can make wise choices.
Keyword research
Both SEMrush and Serpstat have keyword research tools that will help you in improving your search campaigns. When it comes to keyword research, both these tools are easy-to-use and offer in-depth keyword research of your own domain as well as those of your competitor. Serpstat offers information on over 180 million domains, while SEMrush offers information on just 87 million domains. Additional features that are offered by Serpstat include retaining information on almost 168 million ads.
Evaluation of keyword on the basis of difficulty
Both these SEO tools offer a visual representation of organic keyword ranking difficulty. These tools use color and numbers detailing the metrics of each keyword. These tools can also highlight your competing sites that are currently ranking for keywords. Thus, you can easily work on keywords that are worth chasing.
Serpstat comes up with an amazing feature with regard to keyword evaluation. This interesting feature is called the "Missing keyword." This feature highlights your competitor pages ranking in the top 10 ranking position for all those keywords that you are missing.
API comparison
Both Serpstat and SEMrush come up with powerful APIs. Thus, these tools will help you with infinite data analysis. By using Serpstat's plan at $69 each month, you can get access to API at no additional cost.  You will get a similar feature with SEMrush, but you will have to get access to the business plan, which will cost you more than $399. Serpstat also differentiates it in terms of database. It has a Google keyword database for more than 2.4 billion users in the US alone.
Competitor analysis
The use of competitor analysis features of these tools enables you to know who your competitors are, and it can also help you in getting knowledge about their online marketing tactics.
The keyword gap analysis tools available with SEMrush and Serpstat will enable you to compare your keywords with your competitor for organic as well as paid searches. This feature enables you to find your shared as well as unique keywords. It can also help you in analyzing the volume, difficulty of the keyword, and CPC. You will also be able to know which keywords are trending and which keyword you need to avoid.
Serpstat's keyword analysis is not as advanced as SEMrush. But the domain comparison functionality of Serpstat is more intuitive and more visually comprehensible.
Technical site audit comparison
SEMrush comes up with an amazing tool called Site audit. This is a website crawler that can help you in analyzing the overall health of your website. The technical site audit can also help you in getting a list of all issues that your website has.
Similar to the site audit feature of Semrush, Serpstal also helps in adding a project to the dashboard where you can add your website to audit the whole website. Once you run the crawling, it will give you a complete overview of your website. The additional feature that Serpstat has to offer is the SDO score (Serpstat Domain Optimization Score). This score lets you know how well the website is optimized based on the total number of errors.
In addition to this, the use of Serpstat for technical side audit also gives you information with regards to:
High priority issues that you need to fix
Medium priority issues
Low priority issues
Viruses on your website
Taking a look at traffic
It is important for SEO experts to understand the traffic of the website as well as the trends. Both SEMrush and Serpstat come up with tools that help in traffic analysis. With easy-to-check overviews available on the dashboard, you can easily check the trends throughout the year. Both these tools will help you in checking how your competitors are getting website traffic so that you can easily optimize your organic search efforts.
The best part about Serpstat is that it also helps you in getting methods by which your website can gain traffic on a page-by-page basis. This feature can be incredibly useful for your website's landing page and services page.
Price comparison
The most important factor that people keep in mind when choosing an SEO tool is the price of the tool.
In general, Serpstat is 40% cheaper as compared to SEMrush. But, it offers fewer data and advanced features. Serpstat will enable you to track a high volume of keywords at an affordable price. If tracking keywords is your main focus, Serpstat is a better option as compared to SEMrush.
Serpstat enables you to track more keywords at a less price. Tracking of 60,000 keywords will cost you just $149 per month in Serptsta. But, if you use the SEMrush for the same number of keyword tracking, it will cost you thousands of dollars per month.
| | | |
| --- | --- | --- |
| Number of keywords tracked | SEMrush monthly cost | Serpstat monthly cost |
| 500 | $119.95 | $69 |
| 1500 | $229.95 | $69 |
| 15000 | $1800 | $69 |
| 60000 | $7000 | $149 |
| 150000 | $18000 | $299 |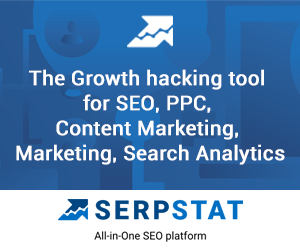 Pricing details for SEMrush & Serpstat
| | |
| --- | --- |
| SEMrush | Serpstat |
| Pro plan: $119.95 per month | Lite plan: $69 per month |
| Guru Plan: $229.95 per month | Standard plan: $149 per month |
| Business plan: $449.95 per month | Advanced plan: $299 per month |
Checking this price comparison table will enable you to know that Serpstat is quite affordable as compared to Semrush. Thus, if you are working under a tight budget, Serpstat can be a better option.
Bottomline
Serpstat is no doubt cheaper than SEMrush, but it is also limited in features. It is one of the best alternatives for beginners. The best part about Serpstat is that you can register for free, and you can also change the daily limit to queries to 30 and get access to site audits. As compared to SEMrush, Serpstat offers detailed analytics not only at the URL level but also at the domain level. The keyword suggestion feature makes Serpstat one of the most magical SEO tools. When it comes to customer support services, Serpstat is a better option as compared to SEMrush, as the platform also offers online chat support features.
If you have just started your SEO journey, using SEMrush may seem a bit difficult for the first few days. SEMrush is a great option for people who want an all-in-one SEO tool that can help you in performing many tasks like SEO, SEM, PPC, and brand monitoring at the same time. If budget is not your concern, SEMrush is a great choice. But, if you are on a tight budget, Serpstat is a good option to choose. No doubt SEMrush is preferred by many, but it is slightly out-spaced by Serpstat, which comes up with flexible pricing plans based on personal and business use.
We hope this review will help you in making a wise choice in choosing the best SEO tool. Let us know which one of these tools worked best for your SEO needs.